Crossville, Tennessee – 2021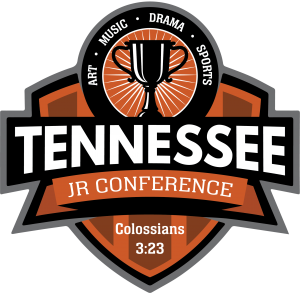 The 2021 Tennessee Junior Conference will be taking place at the Clyde York 4-H Center in Crossville.  Join us October 21 and 22, 2021, and Compete ~ Connect ~ Conquer!
This conference is for Christian school or homeschooled students utilizing any Christian curriculums between the ages of 8 and 12 by December 31, 2021.
Tennessee Junior Conference is an opportunity for Christian schools and Homeschools to come together and compete in over 100 different events in the categories of: Academic, Arts, Photography, Needle/Thread, Athletics, Archery, Music, Platform-Speech/Drama, and Digital Media. Our vision is to see young students recognize and develop their God-given talents. Their untapped potential is just waiting to be displayed and we would love to be a part of that.
Cost: $125
Registration costs include Thursday night lodging and four meals.
IMPORTANT DATES
Online Registration due by September 21, 2021
General Schedule
Thursday – October 21
Registration & Exhibits Check

Opening Rally

Competition 

Rally 
Friday – October 22
Competition Resumes 

Track & Field

Final Competition 

Awards Rally
CONFERENCE FLYER AND EVENT LIST AVAILABLE HERE.  Please refer to the guidelines for each specific event's details.